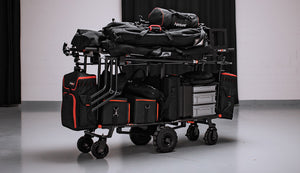 capable
robust
agile
efficient
Testimonials
I'm predicting that a lot of video professionals will move to this cart. I haven't found a cart this sturdy and versatile for such a reasonable price. I was constantly breaking the wheel bearings on my previous cart because it couldn't take the weight. This Krane cart holds 750 pounds. PERFECT!!!

Bennett S.
I find this product to be pretty much the best product I have found for transporting my gear. Extremely versatile and really gets the job done.

Robert M.
Amazing!! Now I can take my drums and gear in one shot .. I don't end up killing myself at the beginning or end of the gig..fits perfect in any car .. makes my job way much easier!!!

Max A.
distributed by these world-class retailers